You can't visit Morocco without a Sahara trip. There are different type of trips but we choose to do the 3 day and 2 night trip. In my previous post I explained how my first day of the trip looked like. Now I want to tell you what kind of amazing things the second day brought us.
Tinerhir, Medina
The first activity of the day was to visit the Medina (old town) of Tinerhir. This literally started at the other side of the street from our hotel. The walk through this Medina was incredible.
It is so much different than the Medinas in the big cities such as Marrakesh and Féz. While we were walking through the Medina and enjoying the architecture of this area our guide stopped at the entrance of a house. He asked us if we wanted to visit this place, it was a place where women are making handmade carpets.
Of course we were interested. So we entered the house but this was maybe also a mistake. We walked upstairs and found a woman working behind a machine to make some carpets. She was happy to show us around and offered us some tea. It is quiet rude to decline such an offer because it is a sign of hospitality so we had to drink some tea.
However with the tea also the business man entered the room. Together with the woman they showed us all the carpets they had and kind of expected us to buy one. Normally they only sell to Moroccans business man directly, who would sell it to tourists or other Moroccans. Prices are lower here than on the street, however we didn't have any space to bring such a carpet back to London. It took us a long time to convince them politely that we aren't able to buy a carpet.
We lost a bit of our time here at the carpet place. Luckily in the end we didn't have a lack of time at the end of the day.
Toudra Gorge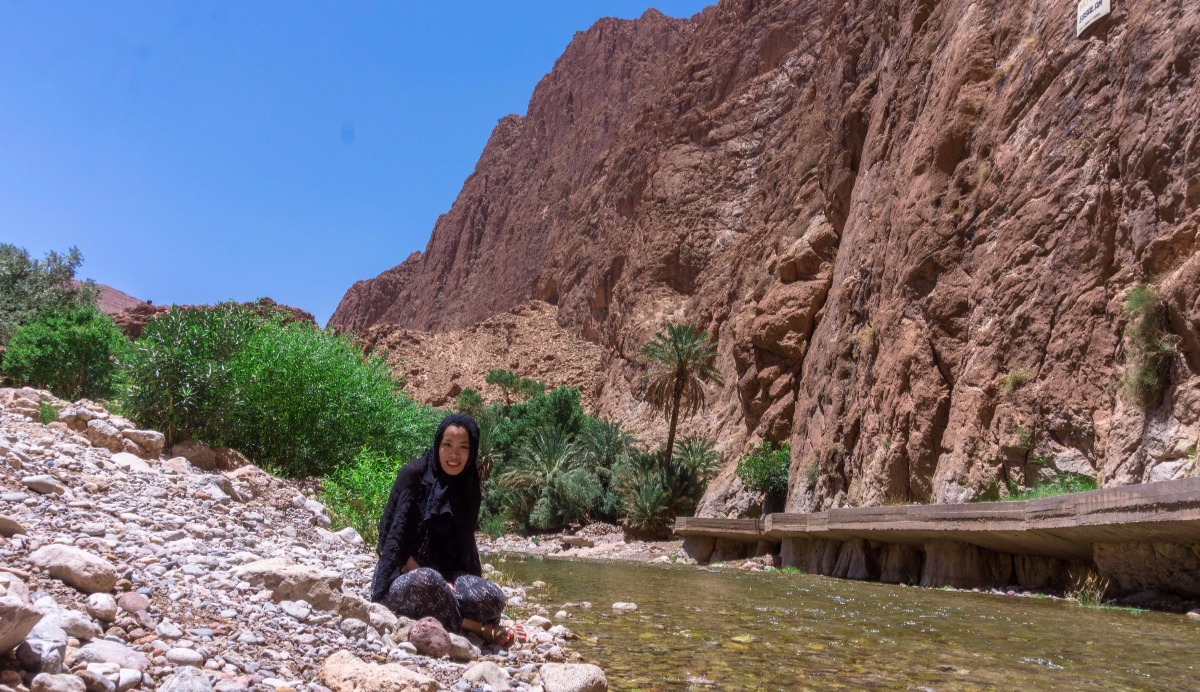 After the Medina it was time to start driving again. Up to Toudra Gorge. This place is really close to Tinerhir. A little bit outside Tinerhir is a beautiful valley/canyon. Zaid our driver dropped us off at the beginning of the gorge.
This place is beautiful, it is just at the end of a big oasis. There is a small stream of water that is so fresh and delicious to drink and really good for cooling you down as well. The nice part of the beginning of the gorge is, is that it isn't that touristy. Around the corner the standard tourist stalls are present and all the group buses are parked there as well. Here the groups are getting off to quickly take some pictures. So if you are able to get off before, really enjoy your time here in this remote place.
Black Desert
The beauty of nature doesn't stop at Toudra Gorge. After the gorge our 4×4 with Zaid drove back and made its way to the Sahara desert. However before we reached the amazing Sahara desert, we first passed the black desert.
Sometimes less is more. That is definitely the case in black desert. There is nothing besides black rocks. Long straight roads and no traffic. It feels as if you are on the famous route 66 but then in Morocco.
It was great to stop, get out and take some pictures. We also saw some oasis along the way and some nomad tents.
Berber pizza and Camel milk
It became already 3 o'clock and we still didn't have any lunch. Today it was time for berber pizza. Unfortunately it is Ramadan period so it is more difficult to get food during Ramadan. In the end Zaid arranged a nice big berber pizza for us.
Berber pizza is basically a nan or bread filled with onion and camel meat. This huge filled bread will be grilled under the ground in the end. The taste of this is wonderful. Camel meat is delicious, apparently really healthy and not even that expansive.
To finish our pizza we stopped at a place next to the main road to buy some camel milk. Now we have the chance we want to try everything that is coming from the camel. Camel milk taste a bit stronger as cow milk, only not as strong as goat milk. It is definitely really nice to drink.
Fossils
In the area where we got our berber pizza you are also able to buy some fossils or do some fossil tours. Unfortunately we didn't have time to really explore the area with the fossils. In the desert there are a lot of fossils found, so probably this can be a very interesting trip to do if you have some time left.
Hotel shower
After 6 hours driving around from the canyon to the black desert and having berber pizza, we arrived at a hotel next to the Sahara sand dunes. The hotel was a luxury 4 star hotel, but I think the star system in Morocco is a bit off. It is a decent hotel, and yes the location is great but nothing close to a 4 star hotel.
In the hotel we took a quick shower, had a look at all the movie posters of the movies that were shot here in the desert and rearranged our bags so we only had to take one bag with us. This was our departure point into the Sahara desert.
Camel ride
At 17:30 we left the place. Min, I and Mohammed were ready to explore the Sahara sand dunes. But first I had to get on the camel. Getting on is easy but the way a camel rises is weird and you need to hold yourself tight and lean backwards.
When you get on the camel, the camel is laying on the floor. Then when it stands up, it will first stand on the back legs. When those legs are up he will get on his front legs. So you can imagine you will be a bit shaken around.
The camel ride felt not that comfortable. During the ride it is okay. It feels as if you are on a kind of ship that is moving through the sand dunes. A ship that has to go through a lot of waves. However after one and half hour on the camel, and then getting off the camel, I really had difficulties with walking normal again. It felt that my legs were stuck in this camel ride position.
I shouldn't complain however because the ride is wonderful. You can't describe how beautiful and magic the sand dunes are. The color of the sand, and the view is just amazing. We were dropped a bit before the camp and could walk around a bit on our own before we went back to camp. Even the pictures here can't describe the beauty of the dunes.
Sunset, Thunder and Lightning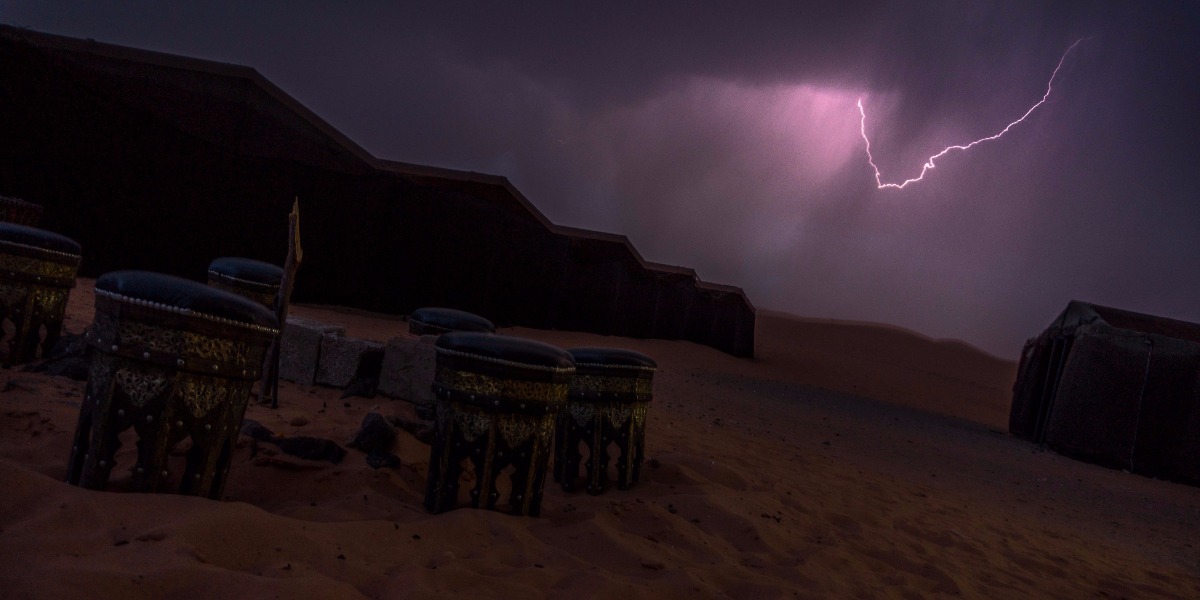 Unfortunately it was a bit cloudy so we didn't manage to see the sunset. Instead we got some amazing lightning in return. The only downside is that this meant that maybe we don't have a chance to see the stars tonight.
Dinner and Berber music

We finished the day in the Berber tent with Mohammed and his friend. Where Mohammed was really quiet during the camel ride, was he now totally opposite. The problem is Ramadan. He was completely out of energy during the camel ride and now he has eaten, he is a happy and energetic person again.
After some tajine, Moroccan salad and melon it was time for some berber music. Singing, dancing and drumming together. We learned how to play some berber songs. And if you wonder what the rhythm was of one of the songs, check the video below to discover the rhythm again.
The next post will be about day 3 of this amazing 3 day trip.
---
Interested in Morocco, find here a guide about Morocco.
Comments