This is my last post where I will explain what we did in our amazing 3 days Sahara Trip. I have already written about day 1 and day 2. As I told you before, if you will ever visit Morocco you HAVE to visit the Sahara desert as well.
Stars
We went to back at midnight last night, so that at least I could have my birthday song from my amazing girlfriend. At midnight we slept for 2 hours. At 2 our first alarm went off, in the hope that the stars would be visible. I crawled out of my bed, tried to open my eyes. Looked out of the tent, and discovered there were no stars.
We tried again with our next alarm at 2:30. This time with more luck, when I crawled out of my bed again, I could see an amazing sky full with stars. I dragged my girlfriend out of bed and we went to the main camp site to look at the stars and the falling stars.
We dragged some stools together and made a quite comfortable bed with it and enjoyed the amazing sky full with stars. The moon was so bright that we even had a clear shadow during the night.
Sunrise
We didn't have a long time to enjoy the stars. At 4 o'clock it was time to leave the camp. On the camels again and guided by the moon we went through the Sahara desert. Scouting for a perfect place to watch the sunset.
After an hour on the camel, starting to hurt myself again in this uncomfortable position. Mohammed found the perfect spot for us. We had to climb on a huge sand dune. While doing this we destroyed this nice clean sand dune into a mess of sand. We were already feeling sorry for the tourists who would pass this place somewhere today about the mess we created when we tried to reach the top.
However it was definitely worth it. The view was amazing. We had a perfect view over the Sahara and the sunrise was just about to begin. This was definitely one of the best places in my life where I have watched a sunset and all of this during my birthday.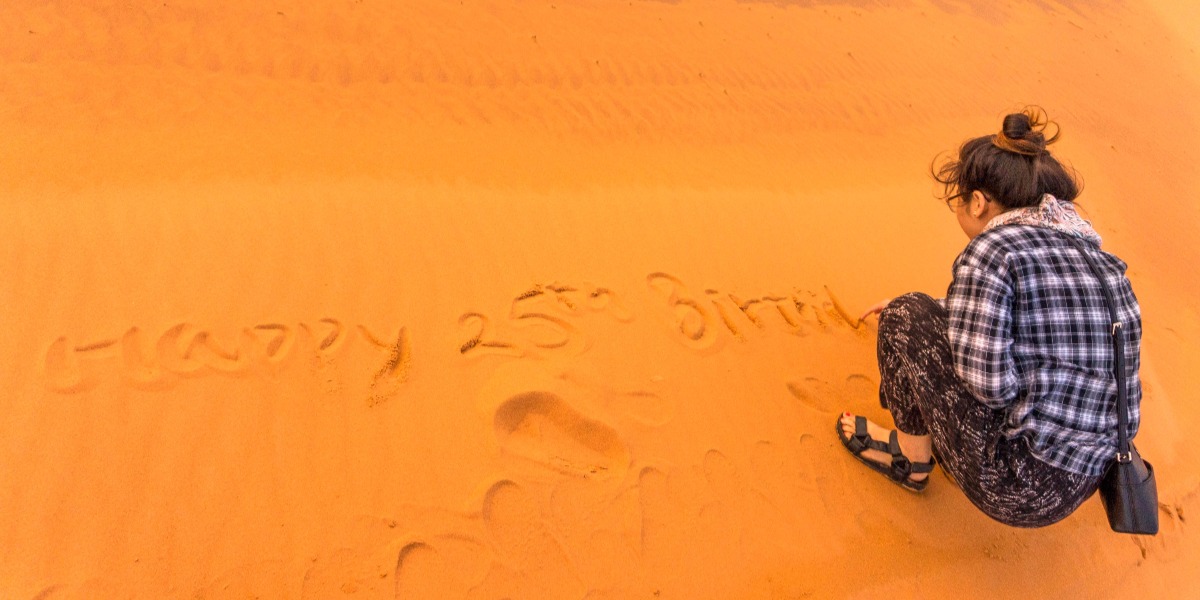 Talking about this, my girlfriend entertained herself in the sand by drawing birthday whishes in the sand. Such a sweet girl! Unfortunately Mohammed shouted at us to come down so we would not be too late for our breakfast in the hotel. This was quite a shame because I am pretty sure we could have entertained ourselves here on top of this dune for the rest of the day.
Long journey back to Marrakesh
After shower and breakfast it was time to go back to Marrakesh. This was a very long journey, with not a lot of sleep. We left the hotel at 9:30 and arrived in Marrakesh at 19:00. Almost 10 hours non-stop driving.
I know I said this already a million of times, but the Sahara sand dunes are amazing, and definitely worth a visit. If you ever have a chance in your life to visit it, you HAVE to go.
---
Interested in Morocco, find here a guide about Morocco.
Comments