There is nothing more spectacular in terms of Christmas decoration than Dyker Heights. Sorry for all the people that love the ice skating under the Rockefeller Christmas tree, however this seriously can't be beaten.
Each year, over 100,000 people flock over to Brooklyn to see houses that are insanely decorated with Christmas decoration. Think about millions of lights, huge moving Santa Clauses and inflatable snowmen. This all sometimes guided with Christmas carols coming from the speakers attached to the houses.
The tradition of the Christmas decoration started in the 1980's. Lucy Spata started to decorate her house and in the upcoming years more houses started to participate. In the end this grew to a sort of local competition. Don't expect something amateurish, people here hire official decoration agencies to decorate their house and can pay up to $30,000 to decorate their house.
When can I visit the Christmas Lights at Dyker Heights?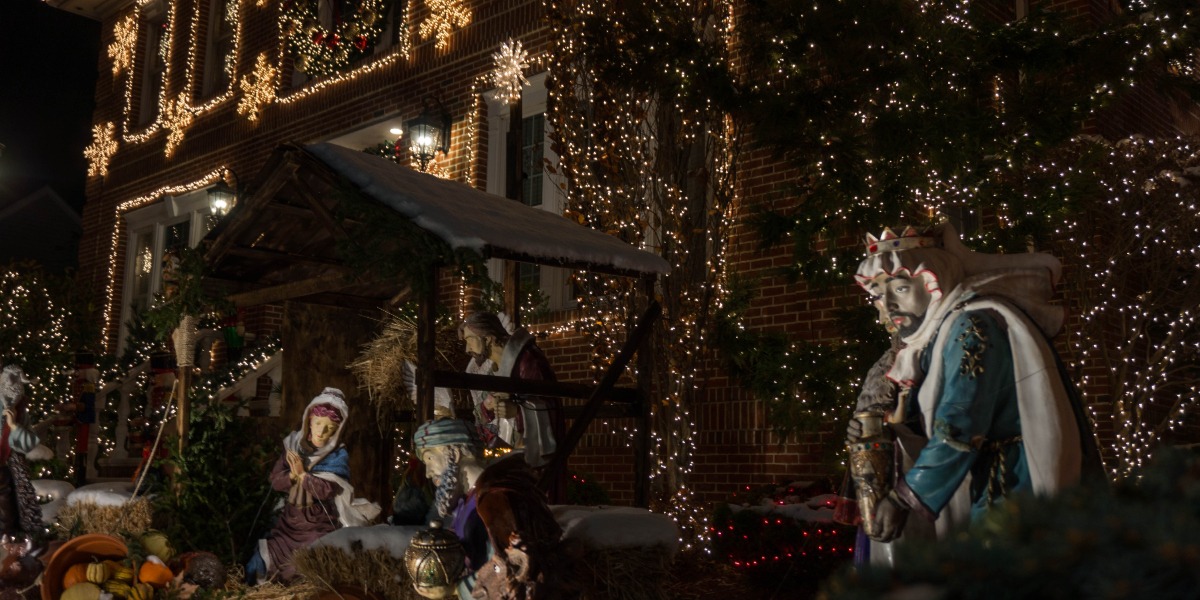 Most of the home owners (decoration companies) will hang their Christmas lights the weekend after Thanksgiving. If you are in the beginning of December, go on a Friday, Saturday on Sunday to make sure most of the lights are turned on. From mid-December till the New Years Eve you can go every day. Make sure you come early, most of the houses will turn their Christmas lights off around 9pm. So, make sure you will be here around 5 pm.
Where is it and how to get there?
If you are traveling by subway take the D train to 71st St. Brooklyn or the R train to 87 Street. From here you still have to walk for around 20 minutes and the breath-taking displays will be from 11th till 13th Avenue and from 83rd till 86th Street.
Our walk through Dyker Heights
We arrived at 87 Street and walked from here to 11th Avenue. In the beginning we weren't sure if we were walking in the right direction. No sign of many people who are going to something special, no sign yet of Christmas decorations but at the moment we arrived we were proven wrongly.
In the area there were loads of peoples around, some by themselves, some by car and some by a tour guide. Our main thinking the whole time was ridiculous. So much electricity is used, and the decoration is insane but also marvellous. It is what you can expect from America, over the top.
Lucy's Spata house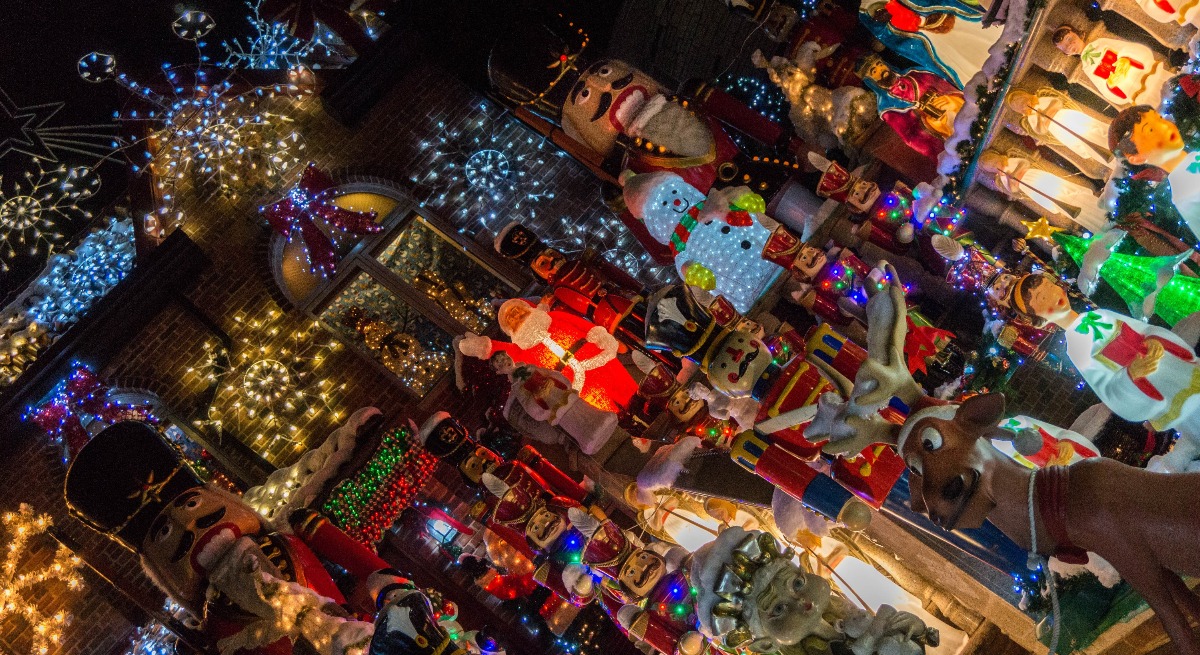 One of the houses that you will immediately notice during your walk through the area is Lucy's Spata house. As mentioned before she started this tradition in the 1980s. The angels in front of her house are there as a memory to her mom who moved to this house in the 80s.
When Lucy started this tradition, the neighbours weren't really happy about their decorations. But as every New Yorker would tell you, if you don't like it just move away. Nowadays it seems that the neighbours embraced this holiday spirit.
The Polizzottos Home
This is another famous display in Dyker Heights. The house consists of two story tall mechanized Santa and two 7,5m tall foot soldiers on either side of the doorway. Besides that, there are two moving carrousels around as well.
The display was commissioned by the late Alfred Polizzotto who hired Lou Nasti, a Brooklynite known for creating moving characters for store windows all over the world and who some people call "Geppetto", to create it for him. Al commissioned the piece during his fight with cancer. His hope was to bring joy to the neighborhood and he sure did. He meant a lot of the community. When he died all the lights in Dyker Heights went black for one night.
Some other houses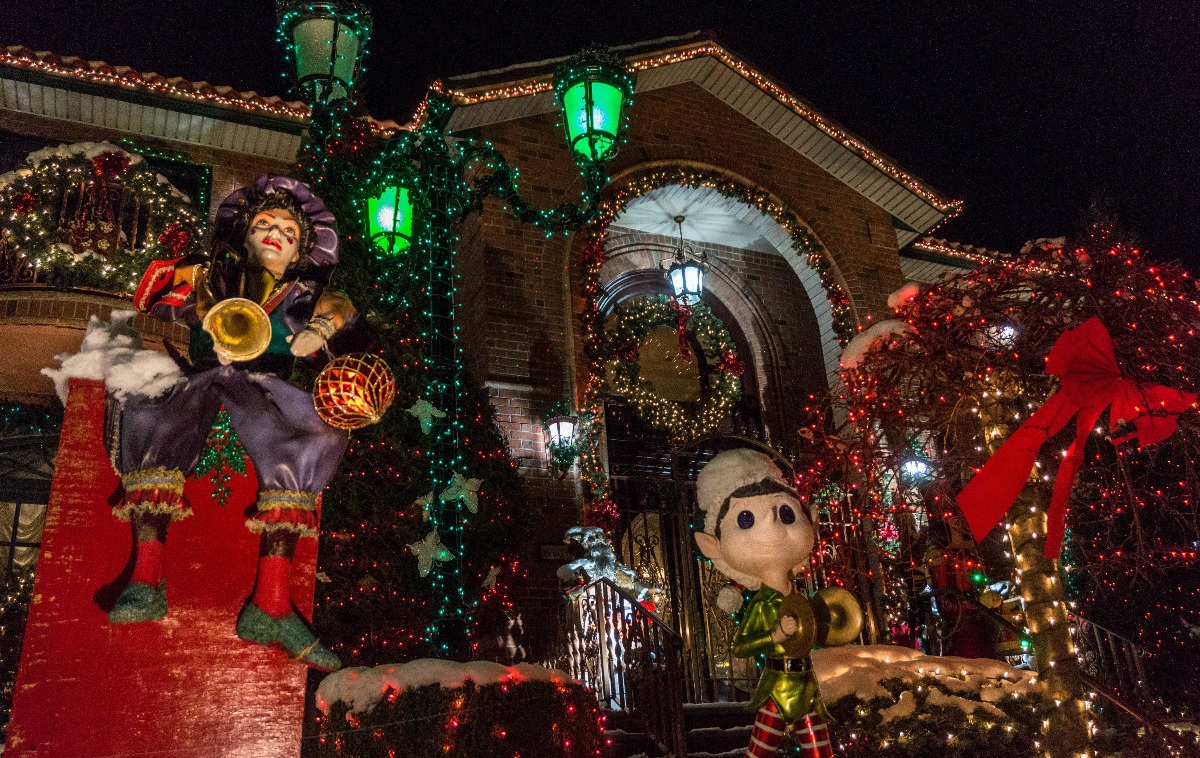 Some other highlights for us were the gate in front of a gate house. A massive house with some brilliant lightning. We still don't understand why you have a gate in front of a gate. But those people must be rich to afford this type of decoration.
Then there are a lot of houses who keep it more 'subtle'. Still the amount spend on those decorations are ridiculous, but it looks more organised.
A MUST visit during Christmas
One thing is for sure. If you are ever around in New York during Christmas and want to visit something really special what you can't find anywhere else. You have to visit Dyker Heights and look at the ridiculous Christmas decoration in front of those houses.
Do you have any other tips of things you have to visit in New York during Christmas, please put it down in the comments below.
Comments